SVB Donated Millions to BLM, DEI, Social Justice, or Related Entities
| | | | |
| --- | --- | --- | --- |
| Redpill Rating: | | COMPLETE REDPILL | (true) |
CoffeeBrandCoffee.com - Medium Roast, Dark Roast, Decaf, and more - from $1.50/oz
---

According to a database maintained by the Claremont Institute which lists nearly $83 Billion in donations to the organization, SVB donated a total of:

$ 70,650,000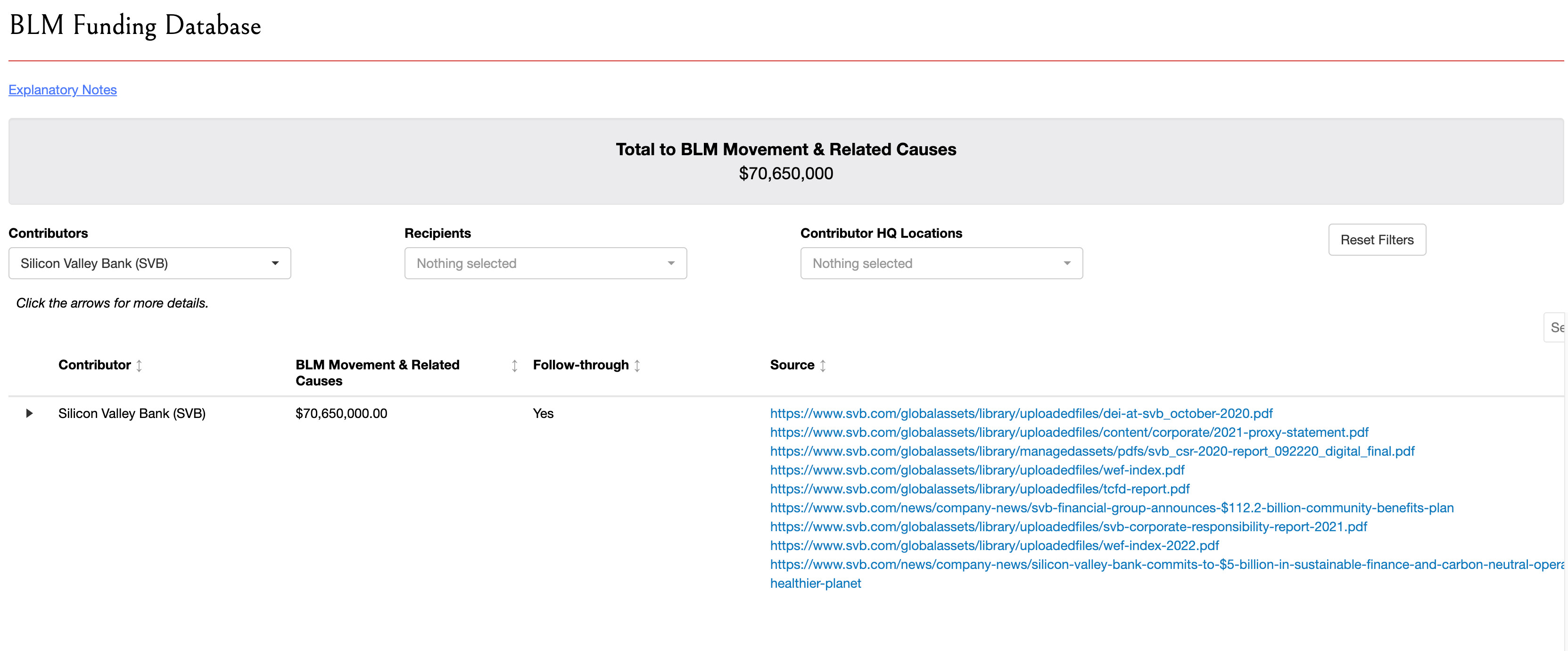 Other media outlets have reported that the figure was 73.4 Million, however the database must have been updated since that reporting, and now only shows 70M 650K dollars.
A thread on twitter claims to "bring the reciepts" on how SVB never donated a single dollar to BLM. They do have some interesting points to make about the claim, however, their complaints largely are focused around the phrasing of SVB making donations to BLM directly. The Claremont Institute database does contain donations made to BLM, BLM related, or BLM adjacent social justice groups or causes (and not just the formal and official BLM group). This is of course up to the discretion of the Claremont Institute, but we leave that to the reader to make their own determination on whether or not to trust the judgement of the Claremont Institute.
We took a look through all of the PDFs, and the most obvious donation amounts that seem to have been completed are:
1.6 M
1.2 M
20 M
1.7 M
There are a number of other donations that are not broken down by recipient or the amount donated, so it doesn't seem possible to know exactly how much was donated (or the specific groups or companies the money was donated to). The total number we found that was actually donated was:
24.5 M
It should also be noted that directly prior to their insolvency, they had committed 5 BILLION dollars to Green energy / carbon neutral agendas regarding the operations of their bank. Committing and actually spending money are two different things. We didn't notice any language in the PDFs that suggested any of this money was actually spent, however, apart from the PDFs not necessarily being complete with regards to that information, our analysis of the PDFs was not substantially comprehensive.
If you have information regarding additional donation amounts from SVB or its financial subsidiaries or related companies, please reach out to us to let us know so we can update this figure.
It should be noted that the Claremont Institute could have followed up in far more detail when researching these numbers, and their numbers may be more correct than ours.
All of the PDFs from the Claremont Institute database are available below in the Links To Evidence section.
The twitter thread in question is: https://twitter.com/JuddLegum/status/1636508878140592129
The original title of this article was that SVB had donated over 70M to BLM or related causes. As a result of the continued and additional investigation into this, we have updated the title to reflect the findings. Specifically, that SVB donated millions (and as far as we can tell in excess of 24 Million, and with the intention of spending far more. In their own PDFs they had intended to meet or exceed a 50M goal by 2025).
Links to Evidence
| | | | |
| --- | --- | --- | --- |
| Redpill Rating: | | COMPLETE REDPILL | (true) |
CoffeeBrandCoffee.com - Medium Roast, Dark Roast, Decaf, and more - from $1.50/oz