A Norfolk Southern Train Containing Vinyl Chloride Derailed in East Palestine Ohio
| | | | |
| --- | --- | --- | --- |
| Redpill Rating: | | COMPLETE REDPILL | (true) |
CoffeeBrandCoffee.com - Medium Roast, Dark Roast, Decaf, and more - from $1.50/oz
---

On February 23, 2023, the NTSB released their preliminary report regarding a train derailment which took place in East Palestine, Ohio.
East Palestine, Ohio, is a village in northeastern Columbiana County, Ohio in the United States. As of the 2020 census, the population is known to be 4,761 people.
On February 3, 2023, a Norfolk Southern train carrying hazardous materials on the eastern side of town became derailed. On February 4th a State of Emergency was declared by the city council. On February 6th, Ohio Governor Mike DeWine extended an evacuation area so that vinyl chloride could be released and then destroyed in a controlled burn in a nearby trench.
The report states:

On February 3, 2023, about 8:54 p.m. local time, eastbound Norfolk Southern Railway (NS) general merchandise freight train 32N derailed 38 railcars on main track 1 of the NS Fort Wayne Line of the Keystone Division in East Palestine, Ohio.
They went on to say:
The derailed equipment included 11 tank cars carrying hazardous materials that subsequently ignited, fueling fires that damaged an additional 12 non-derailed railcars. First responders implemented a 1-mile evacuation zone surrounding the derailment site that affected up to 2,000 residents. There were no reported fatalities or injuries. At the time of the accident, visibility conditions were dark and clear; the weather was 10°F with no precipitation.
According to the report, the train was described as:
Train 32N comprised 2 head-end locomotives, 149 railcars, and 1 distributed power locomotive located between railcars 109 and 110. The consist included 20 placarded hazardous materials tank cars transporting combustible liquids, flammable liquids, and flammable gas, including vinyl chloride. [2] Train 32N was traveling about 47 mph at the time of the derailment, which was less than the maximum authorized timetable speed of 50 mph. [3] Train movements near the derailment site are authorized by cab signals and wayside signal indications with an overlaid positive train control system and are coordinated by the NS Cleveland East train dispatcher located in Atlanta, Georgia. The positive train control system was enabled and operating at the time of the derailment.
The initial findings of the cause of the derailment, according to the report, is that the train derailed as a result of a ball bearing overheating.
On the Fort Wayne Line of the Keystone Division, NS has equipped their rail network with HBD systems to assess the temperature conditions of wheel bearings while en route. The function of the HBD is to detect overheated bearings and provide audible real-time warnings to train crews. Train 32N passed three HBD systems on its trip before the derailment. At MP 79.9, the suspect bearing from the 23rd car had a recorded temperature of 38°F above ambient temperature. When train 32N passed the next HBD, at MP 69.01, the bearing's recorded temperature was 103°F above ambient. The third HBD, at MP 49.81, recorded the suspect bearing's temperature at 253°F above ambient. NS has established the following HBD alarm thresholds (above ambient temperature) and criteria for bearings:

Between 170°F and 200°F, warm bearing (non-critical); stop and inspect
A difference between bearings on the same axle greater than or equal to 115°F (non-critical); stop and inspect
Greater than 200°F (critical); set out railcar

State of Emergency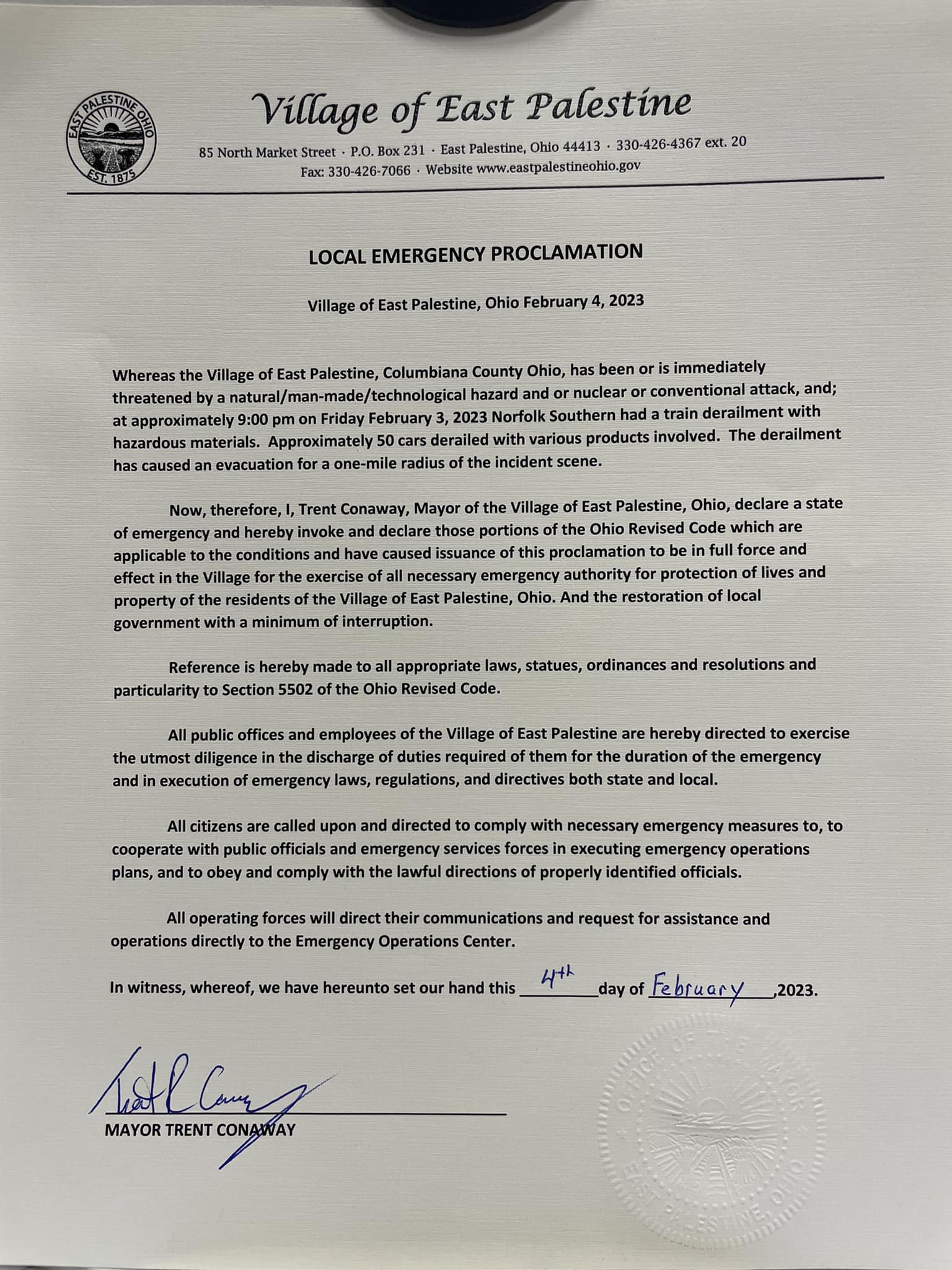 Expansion of Evacuation Area


NTSB Derailment Report


Links to Evidence
Image Evidence Archived Above
| | | | |
| --- | --- | --- | --- |
| Redpill Rating: | | COMPLETE REDPILL | (true) |
CoffeeBrandCoffee.com - Medium Roast, Dark Roast, Decaf, and more - from $1.50/oz