Buried in the 1 Trillion Dollar Biden Infrastructure Bill Is a 'Kill Switch' to Disable Cars
| | | | |
| --- | --- | --- | --- |
| | | COMPLETE REDPILL | (true) |
CoffeeBrandCoffee.com - Medium Roast, Dark Roast, Decaf, and more - from $1.50/oz
---

Buried within the Infrastructure Bill Public Law 117–58 117th Congress on page 403 under Sec. 24220. "Advanced Impaired Driving Technology" has a definition that is commonly considered a 'kill switch'. This could enable authorities or the government to remotely disable one's 'passenger motor vehicle'.
(i) passively monitor the performance of a driver of a motor vehicle to accurately identify whether that driver may be impaired; and
The dealine listed in the bill is as follows…
TECHNOLOGY SAFETY STANDARD.—Subject to subsection (e) and not later than 3 years after the date of enactment of this Act, the Secretary shall issue a final rule prescribing a Federal motor vehicle safety standard under section 30111 of title 49, United States Code, that requires passenger motor vehicles manufactured after the effective date of that standard to be equipped with advanced drunk and impaired driving prevention technology.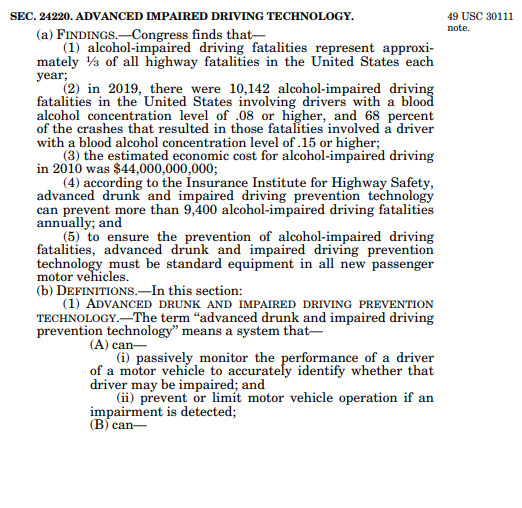 Links to Evidence:
| | | | |
| --- | --- | --- | --- |
| | | COMPLETE REDPILL | (true) |
CoffeeBrandCoffee.com - Medium Roast, Dark Roast, Decaf, and more - from $1.50/oz