Marines Commissioned Study That Suggests They Integrate Same Sex Boot Camp Training and Drop Gender Identifiers 'Sir' or 'Ma'am'
| | | | |
| --- | --- | --- | --- |
| | | COMPLETE REDPILL | (true) |
CoffeeBrandCoffee.com - Medium Roast, Dark Roast, Decaf, and more - from $1.50/oz
---

The US Marine Corp commissioned a study that found and suggested integrating the sexes during boot camp like other branches of the military, as well as, dropping gender identifying language and instead using rank and last names to address superiors…
The Army, Navy, and Coast Guard effectively de-emphasize gender in an integrated environment, the report states. Instead of saying 'ma'am' or 'sir,' recruits in these Services refer to their drill instructors using their ranks or roles followed by their last names. Gendered identifiers prime recruits to think about or visually search for a drill instructor's gender first, before their rank or role…

Gender-neutral identifiers are an unambiguous, impartial way to circumvent these issues, the authors write. Employing gender-neutral identifiers eliminates the possibility of misgendering drill instructors, which can unintentionally offend or cause discord. By teaching recruits to use gender-neutral identifiers for their drill instructors, Services underscore the importance of respecting authoritative figures regardless of gender.
Their study also concluded that the Marine Corp was too male centered and did not have enough female sections of service history…
The University of Pittsburgh report highlights a number of ways ― subtle and not-so-subtle ― that Marine Corps boot camp centers male recruits and makes male Marines the standard. Three of the five sections of service history taught at boot camp contain no explicit mention of female Marines, and 'core values' guided discussions exclusively highlight the stories of male Marines and sailors when giving examples of real-world heroism and leadership.

These examples paint a picture of a Marine Corps in transition.

The Corps still has the smallest percentage of female service members, and until 2019 all female recruits were trained in a single battalion at Marine Corps Recruit Depot Parris Island, South Carolina. Women now train at both Marine Corps boot camps, but training materials have been slow to catch up to that reality.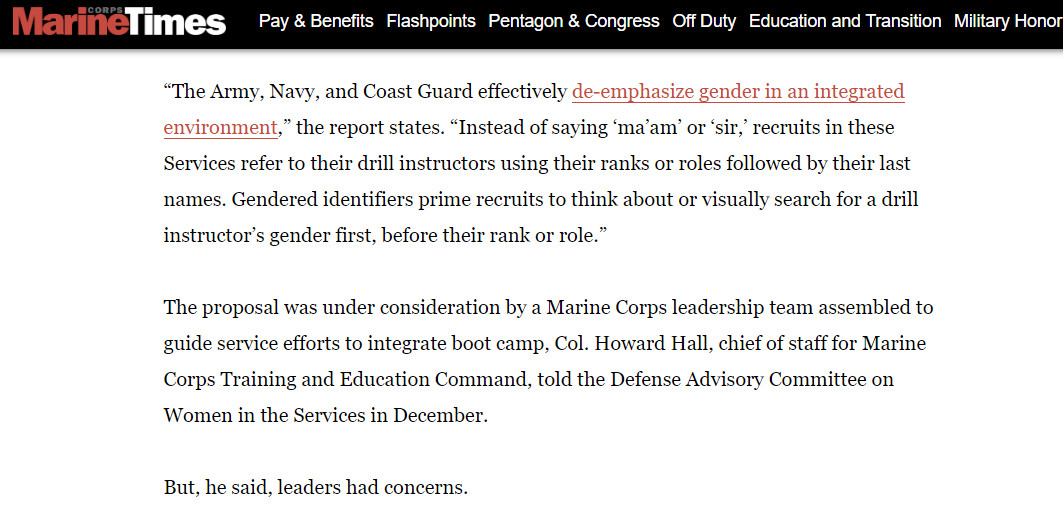 Links to Evidence:
| | | | |
| --- | --- | --- | --- |
| | | COMPLETE REDPILL | (true) |
CoffeeBrandCoffee.com - Medium Roast, Dark Roast, Decaf, and more - from $1.50/oz