CDC Removes Reference to Their Own Study at Request of Gun Control Advocates
| | | | |
| --- | --- | --- | --- |
| | | COMPLETE REDPILL | (true) |
CoffeeBrandCoffee.com - Medium Roast, Dark Roast, Decaf, and more - from $1.50/oz
---

The CDC deleted a reference to their own study citing 2.5 million cases of DGU (Defensive Gun Uses) per year at the behest of gun control advocates, the White House, and Senator Dick Durbin.
The Center for Disease Control (CDC) deleted a reference to a study it commissioned after a group of gun-control advocates complained it made passing new restrictions more difficult.
That 2.5 Million number needs to be killed, buried, dug up, killed again, and buried again, Mark Bryant, one of the attendees, wrote to CDC officials after their meeting. It is highly misleading, is used out of context and I honestly believe it has zero value, even as an outlier point in honest DGU discussions.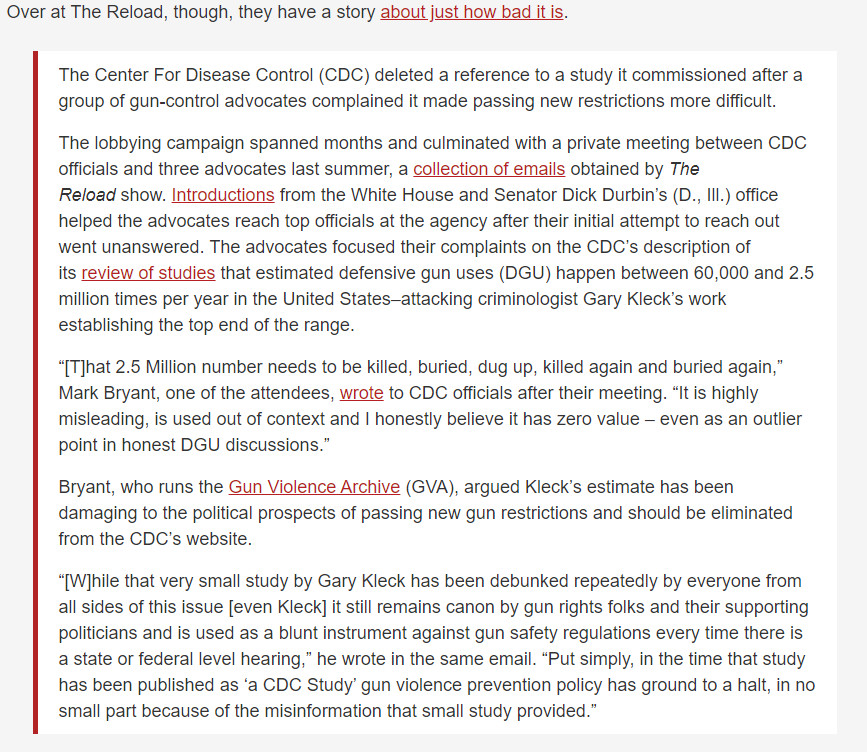 Links to Evidence:
| | | | |
| --- | --- | --- | --- |
| | | COMPLETE REDPILL | (true) |
CoffeeBrandCoffee.com - Medium Roast, Dark Roast, Decaf, and more - from $1.50/oz